The (Original) Farmers Market
Lisa and I used to say – before the mere notion of Melting Pot Tours was conceived – that we wish we lived across the street from the (Original) Farmers Market. We mused about how fabulous it would be to be there any time we wanted. We could buy our meat, our cheese, our berries …  and that was just the beginning of our daydreams.
To this day, we still agree that it would be so nice to live closer than our one hour+ away from the Market and, it's said that you have to be careful what you ask for.
Lisa and I are at the Market quite possibly way more often than those who are lucky to live across the street so, we kind of got our wish. We are very grateful for that, and for the privilege – these last 10 summers – of hosting Melting Pot Tours at our favorite iconic LA landmark.
We love when something new pops up, and we think fans deserve to know what they ought to seek out on their next summer run to the Market!
Even though we're in the home stretch of the summer, do not despair. Here are a few incredibly delicious things that are standing by to tempt your taste buds right now, and quite possibly a while longer: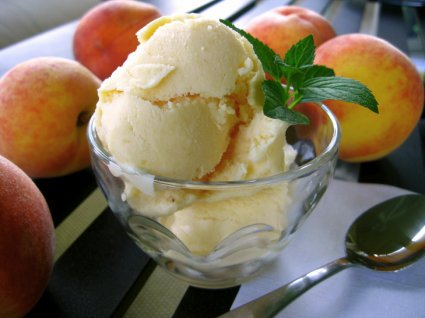 Bennett's Ice Cream is offering their Fresh Peach ice cream for at least a few more weeks; sometimes it exits stage right when Spiced Pumpkin arrives in October. 
I'm personally not able to eat a lot of ice cream but, last Friday someone was handed a gorgeous peach cone from across the counter, and I just had to say "I want what they're having." 
If you prefer dairy-free, their year-round Lemon Sorbet and Cabernet Sorbet are wonderfully-refreshing when the sidewalk is sizzling.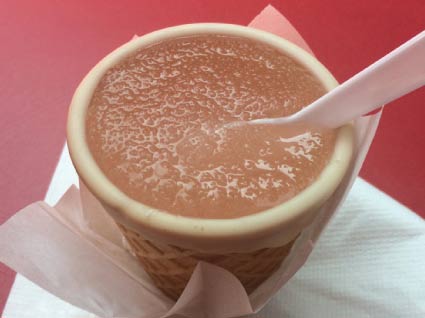 Zia Valentina's refreshing guava granita is sublime in one of their pretty-much-world-famous-by-now Waffleshots (even available for online ordering). 
The granita (Sicily's semi-frozen signature) with guava may only be here seasonally, so I heartily recommend you rush in. I loved mine in a white-chocolate Waffleshot, shown in photo. 
You may, of course, also opt for a classic espresso in your choco-lined Waffleshot so that the "melting magic" they promise is guaranteed … summer magic is also nice!
Michelina Artisan Boulange
If you're up for something more savory, you may love to know about the new object of my obsession, which is Michelina Artisan Boulanger's baguettes. Their "epi-baguettes" (shown in lead photo) seem to have just arrived. My sense is that they only make a limited number each day, so you must claim yours quickly, especially on weekends. According to my experts, the French buy a fresh baguette each morning and again each evening on their way home from work, so consider doing just that … now that we have this fantastic new boulangerie romancing us.
Stay tuned for another round of Summer-Cool at the Market, in my next post. In the meantime, please enjoy one or all of the above on your next stop there to shop and dine!

Until next time, I remain ~
Your Chef and Tour Maestra