Di and Lisa's Excellent Saturday Adventure #1
Our friend Andy Harris is co-host of the SoCal Restaurant Show on Angels Baseball radio station 830AM in Anaheim. We enthusiastically accepted his recent invitation to guest on his show for the second time. In October 2012 his show was brand-new, and we were guests to chat up our own brand-new Thai Town Tour with Chef Jet Tila.
This time, we loved that our Melting Pot Tours banter followed the segment that Andy hosted with Wolfgang Puck's Co-Chef for the Oscars Governors Ball!
During the first half of our conversation, Andy had us review where we'd been for the last 7+ years, and if you'd like, you may listen here. Following a break, we were excited to share mostly about our La Espanola Meats VIP Tour and Paella Lunch event; here is the recording of that segment.
Being in Anaheim is a rare occasion for us. I easily talked Lisa into checking out Donde Adela, a neighborhood Colombian restaurant that I was anxious to try. 
We had a great meal that started with fresh fruit aguas that had a whipped-type texture, so they were like dairy-less smoothies – incredibly delicious blackberry for Lisa, and guanabana for me.
Their ceviche was simply large, cooked shrimp in their mayochup sauce – similar to our Thousand Island dressing
. Our arepa was very much like a Salvadoran cheese-filled, grilled pupusa. Noticing that this was a popular locals spot, it made me smile to think that it would be a quintessential Melting Pot Tour stop, were we to tour this neighborhood.
We shared a main course of grilled steak, with fried yucca, rice, salad, and plantains … really delicious and – note to self – we'd order a side of sauce next time. It would have been even better with some sauce!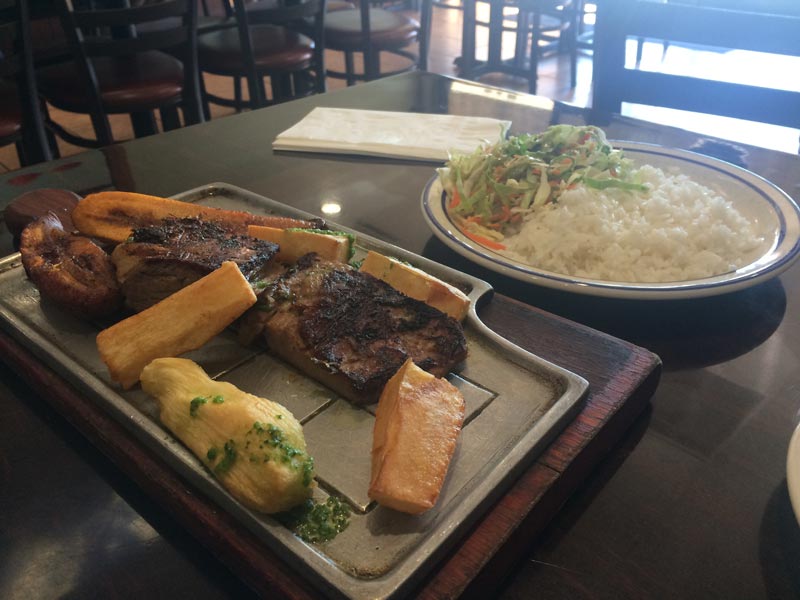 Service was lovely and it felt good to be among local Latinos, including little grandmas that probably make this a Saturday brunch habit. Their décor included a well-placed image of James Rodriguez, a Colombian world football hero, and their playlist was mostly Carlos Vives. I really loved this.
Our route back home brought us in the proximity of Gardena's 99 Ranch (Asian) Supermarket. "Since we're here" (we say this a lot), we conveniently stopped in to buy some well-priced staples like Mirin and sesame oil. 
Suddenly with an Asian theme emerging now, we discovered that Mitsuwa Marketplace has relocated to a space at the Del Amo Fashion Center in very nearby Torrance. It opens later this month so, perhaps stand by. 
Our next Excellent Adventure will include our sister Suz, who lives within walking distance of this new Japanese Mitsuwa mecca.
Ahh, it's always nice to explore little corners of the globe in our own backyard. This type of excellent adventure is highly recommended!

Until next time, I remain ~
Your Chef and Tour Maestra