From Chef Di's Files: Deep Leafy Greens
A new series of stories will regularly appear on our Blog in 2020, from my so-called Chef's Files ;). 
It will address one genre of ingredients at a time. I'll be offering 3 ways to work with them for the highest, most joyful, and uplifting – and usually healthiest 😉 – good of everyone involved, especially you.
Our first topic is Deep Leafy Greens, which of course are those which claim to be the super-est of all superfoods, those which all of the world's most beautiful people eat in gobs every day (LOL), and those which a lot of us would truly, humbly, like to work into our repertoire more often.
As a child, eating vegetables – especially green ones – was not a favorite way to spend time at the table, for me. A switch got flipped a long while back, when our father had a heart attack (in January, come to think of it), and after open-heart surgery, his doctor advised that the entire family change their eating habits.
That is when I began eating more vegetables, more eagerly, more regularly.
By now, I really do want to eat more greens and admittedly, this is still a work in progress. There are a few ways, however, that I have come to love greening up what I eat, and that is why I've brought you here!

Spanish style.
I made a fantastic Spanish dish the other night, with Swiss Chard. I used green chard; there is also red or rainbow – take your pick! A good secret about using greens is to boil them slightly to begin, drain, cool, chop. 
For this yummy side dish:
Place one large head chard in large pot of boiling water, simmer 11 minutes. Drain. Cool. Chop coarsely.

Heat 3 Tbsp olive oil in large skillet, 

Add ½ diced onion and 2 cloves garlic – cook until soft. 

Add a splash of red wine vinegar, pinch of paprika and cumin. 

Add 1 cup diced bread, cook until crispy.

Finally stir in prepped Chard, heat through.

Add salt and pepper to taste; serve immediately; 4 side dish servings.

Green Smoothie.
Another favorite thing to do, is blend leafy greens (and other green things) up in a Green Smoothie. I consider this to be one the most painless of ways to get your greens. Find my celebrity-inspired recipe here. 
I taught this recipe at a Culinary University in Guadalajara, Mexico about 4 years ago – it was a big hit and somehow I got mistaken for being a Chef to Hollywood. Of course ☺. 

An Arugula Passion.
Finally, true confession. I love arugula. In Italy and even Spain and France, it's known as Rocket. I cannot tell you why this name is used. Never mind. 
Here are some ways to enjoy more Arugula / Rocket in your plans:
1. Use a big handful as a bed for pasta, any kind of pasta. When I was in Barcelona for the first time in 2012, I was craving pasta madly. My friends sent me to a handmade pasta bar, where I had the most blissful plate of Pasta Bolognese topped with Arugula. I mixed it all together and was reminded that I live in a kind and benevolent Universe. (Plus, I was in Barcelona!)
2. Use it as a topping for Pizza, any kind of pizza especially something traditionally Italian, as my friend Marco Pacelli does at Fatto a Mano in Redondo Beach (see foto) – stay tuned for more on him and his art!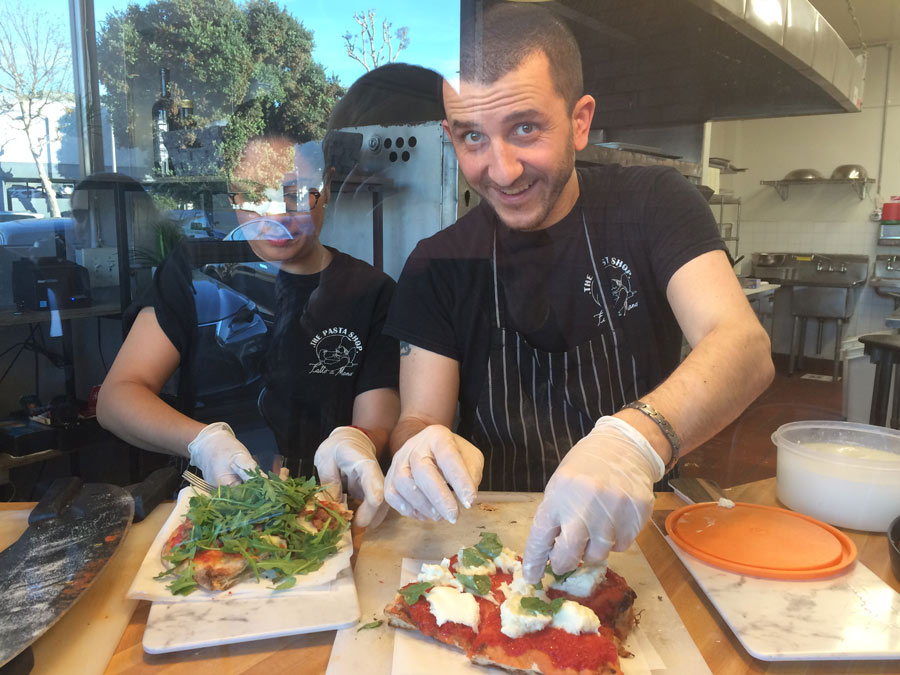 3. Use it in that Swiss Chard dish in addition to the chard or in place of (do not cook it first!) 
4. Use it in the Green Smoothie.
5. Top tacos with arugula instead of lettuce or cabbage. 
6. Tuck it into wrap sandwiches. 
7. Steak-Lemon-Parmigiana-Arugula-Pepper is an exquisite mix of stuff to mix into pasta or top a pizza. A friend used to have a famous sandwich on his Sports Bar menu with Steak, Spinach, and Parmesan called The Popeye.

Until next time, I remain ~
Your Chef and Tour Maestra