Armchair extension of our Tours
Your Go-To Girls for LA Gastronomy are in fact, us ~ Lisa and Diane Scalia of Melting Pot Tours. These stories are like an armchair extension of our Tours. Trust us to point you in the direction of independently-owned-and-operated, well-priced places in our great city's neighborhoods, that you surely deserve to know about!
This post shines light on RABANO in Hermosa Beach. This one-of-a-kind dine-in/take-out casual oasis focuses on handcrafted light&healthy plates, salads, sandwiches, and beverages, sourced with goodness from local farms.
It was time for Lisa and I, joined by our younger sister Suz, to all agree on a place to dine. At least one of us was growing hangry, and if our decision wasn't going to be unanimous in 11 seconds or less (they've taken up to an hour in the past), said party was going to grow even more hangry.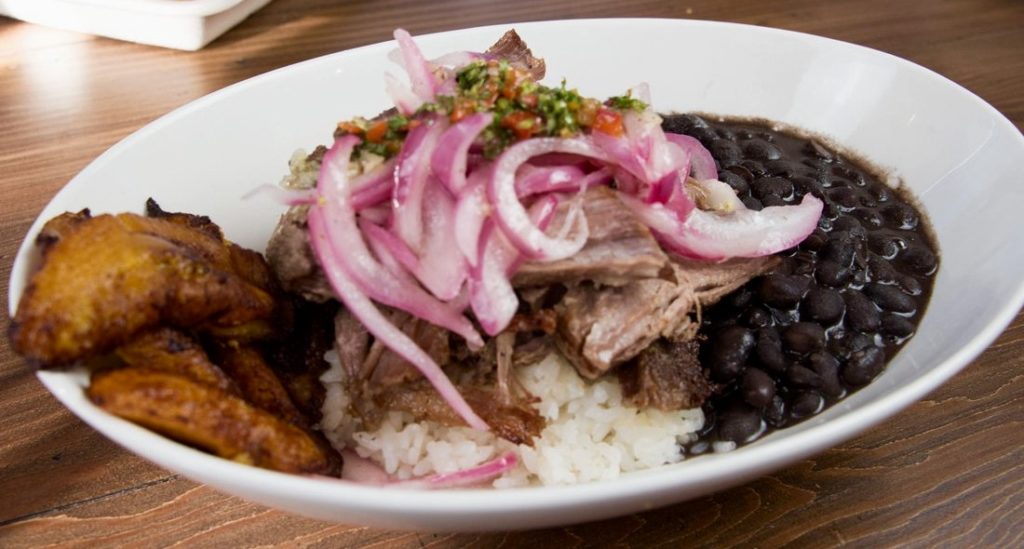 "Rabano it is," said the hangry one, blissed-out for our quick unanimous vote.
The busy-yet-serene feel of this small venue had a very sweet way of drawing us in. I immediately appreciated their classy blackboard menu (Season 2: Summer 2017) which appeared as fresh and alluring as the locally-sourced and sustainable ingredients listed for each item.
Dining here proved to be an exercise in self-restraint, as everything seemed to pop out at us and say Pick me, pick me! Having arrived between lunch and dinner, we simply opted to share the Lechon Cubano "Super Bowl" (in photo), Rabano Fries and, 3 honey lemonades.
This experience of such extraordinary selections was exactly what we, your Go-To-Girls, are seeking for ourselves and for you. If people consider themselves foodies, then they absolutely need and deserve to know about treasures like Rabano.
Rabano's art on the plate, inviting dining ambience, kind and friendly staff, their mission to celebrate people, friendships, and the joy of living, while responsibly supporting local sources … all added to the love and care that goes into every handcrafted food and drink … makes us want to hurry up and tell the world about them. We consider that call to be our own joy and privilege.
By the way, here is the short version of this family-owned story. The China-born parents of the Chong family made their way to Cuba, where three of their children were born. The young family then emigrated to Peru, where they settled until they finally came to the US in 1975. This all explains why their gorgeous menu is a brilliantly-inspired array of creations that celebrate ingredients native to their unique Asian-Latin heritage.
Rabano (accent over the first "a") is Spanish for radish.
Here's a peek at the other can't-wait menu items I would love to try next time. If I had it my way, I'd also do my best to open a conversation with the family to learn more about their amazing magic on the plates, and in the glass!
Gutsy refresher beverage ~ tumeric, beet, ginger, honey lemonade
Edaname wontons ~ with siracha agave
Inamorato ("in love") Farms ~ sustainable greens salad with pomegranate, sundried strawberry, honey walnuts, goat cheese
Tofubello ~ vegetarian sandwich on ciabatta bread dressed with cashew-chipotle
Sustainable Steelhead Super Bowl ~  Columbia river salmon bowl with Peruvian-style accoutrement
Needless to say, I could wax poetic for all eternity + 11 more seconds about this great place but, I am going to leave you with the following.
They invite you to sit back, enjoy, and stay cool.
We heartily encourage you to please hurry up and go do just that!
Rabano Handcrafted Food&Drinks is located at 2516 Pacific Coast Highway, Hermosa Beach, 90254.

Until next time, I remain ~
Your Chef and Tour Maestra