This week is very special. It is the birthday of the real founder of Melting Pot Tours, my sister Lisa. Many of you know that I refer to her as the brains behind the organization and, it is equally true when I say that we are still in business for nearly 10 years now because, we have Lisa.
Having said all that, my story is really about the lady behind Melting Pot Tours. I thought it would be wonderful if more people knew more about Lisa, other than what she shows so brilliantly in her businesswoman persona.
We grew up together sharing a bedroom through college, with our younger sister, in a small home of 7 people and one dog. We kind of grew up being best friends, in a family that really co-existed very peacefully; we are very blessed for that. Now as business partners, we operate with, and sincerely honor, those family values ~ perhaps always striving for peace because, it's a very nice state of being.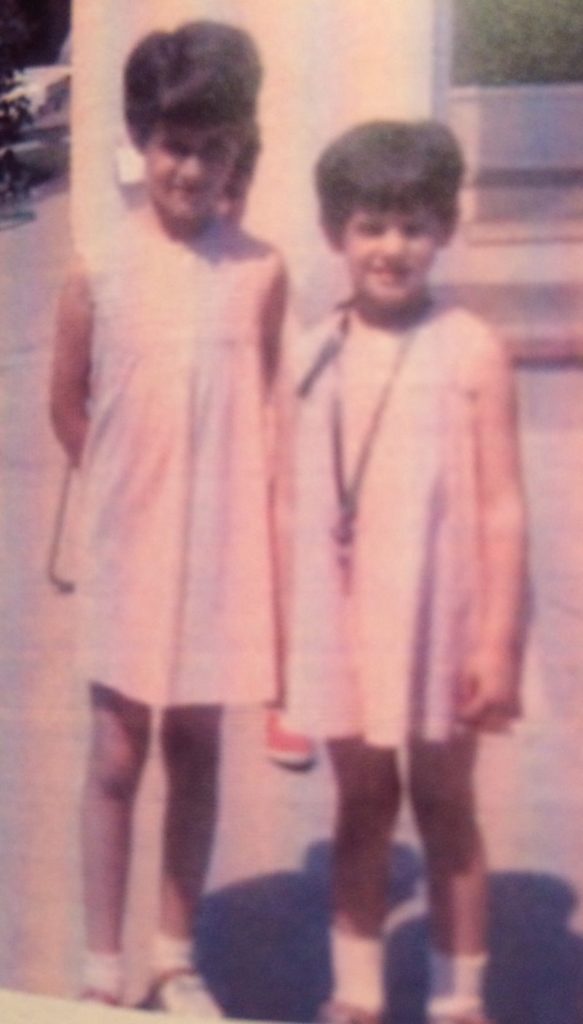 When we were young, we used to call Lisa "Little Larry", named for our dad. Larry Sr. 🙂 was a real estate appraiser for the State of California. Lisa's first career was a real estate appraiser for a myriad of banks. Like our dad, Lisa knows LA neighborhoods in her sleep, has a brilliant sense of direction, is particular about her food, and was bit by wanderlust at an early age … so it's not all that surprising that she was inspired to create LA's original food tours company.
She remembers drawing a picture of herself as a baker, for a school assignment on what she wanted to be when she grew up. To this day, she is passionate about anything pastry, cake, baked goods, amazing breads, and fine bakeries in general. We share that passion!
Another story possibly quite telling about Lisa, is that when she was about 8 years old, she didn't like that our parents received all the (US Snail) mail. In the TV Guide, there was an ad for an extension university. Upon returning a short application, a representative would make a personal visit to evaluate your qualification to be a student. Lisa filled out the coupon, missed the fine print and mailed it out, expecting that some grand mail with her name on it would pop into our mailbox soon.
While out with our family in the front yard one night, our mom was alarmed when a young professional man approached her, looking for Lisa Scalia. My mother informed the man that Lisa was only 8 years old (!!!!) and thank you no, she would not be qualifying as a LaSalle Extension University student. We laughed about that for a long time.
Some other little known facts
Here are some other "little known facts" that I hope Lisa won't mind my sharing about her!
Lisa used to save her Halloween candy until around Easter, when she would of course get new candy, which she would save until around Halloween.
One of Lisa's first jobs was as a Hostess at Norm's Restaurant and, when they told her she would be working on Thanksgiving, she quit (with proper notice, of course).
Lisa was a foreign exchange student to Australia, when she was 16. Since then she has had a long-time passion for Down Under, traveling back many times, and still has close friends from that first visit.
Lisa lived for a year in London, upon graduating from college (with her Bachelors Degree in Hospitality Management). She has office skills, and was paid well to work as a temp secretary in between her travel excursions all over Europe. Our parents even met up with her at one point!
Lisa traveled to Morocco for 3 weeks in 2015, and rode a camel!
Lisa and her husband have a code for restaurants they both enjoy and approve of: GLADE (Gerry-Lisa Approved Dining Establishment).
Lisa loves her dog Wilson with a passion, and spends some of her vast spare time learning how to improve his quality of life with brain games.
Lisa makes the best Spritz cookies at Christmas. She also had the best Hollywood celebrity costume one year on Halloween. And she makes the best molded Jello salads, for family holidays.
Lisa has one of the sweetest hearts of anyone I know. She is the best when it comes to caring for our Mom at this hour, and that makes me wish I could be like her when I grow up. It is surely my privilege to be close to her in this life, work with her in our business, and write these words about her now.
I hope you will join me in wishing her the happiest of birthdays, and send good juju (as we like to say) for her fantastic year ahead, filled with all of the overflowing blessings she so deserves.

Until next time, I remain ~
Your Chef and Tour Maestra