Italian Chicken in Fresh Tomato Sauce
Last month an angelic friend of mine shared the mother lode of his garden's heirloom tomatoes. For at least a week these babies begged from a bowl on my counter to be made into something divine.
Slow-cooked Italian-style chicken seemed very comforting (much-needed at that hour) and, divine. So something like this recipe is what I made. Even though I intended to write everything down as I went, admittedly that didn't happen.
Thank you for rolling with this. I promise that using the best-quality ingredients you can ransom will render a perfect result, even if the measurements are not precise.
Serve the chicken and its sauce over pasta, rice, or soft polenta. Top it all with the Toasted Parmigiano Crumbs, which I hope will render this dish a keeper for you and yours. Buon appetito!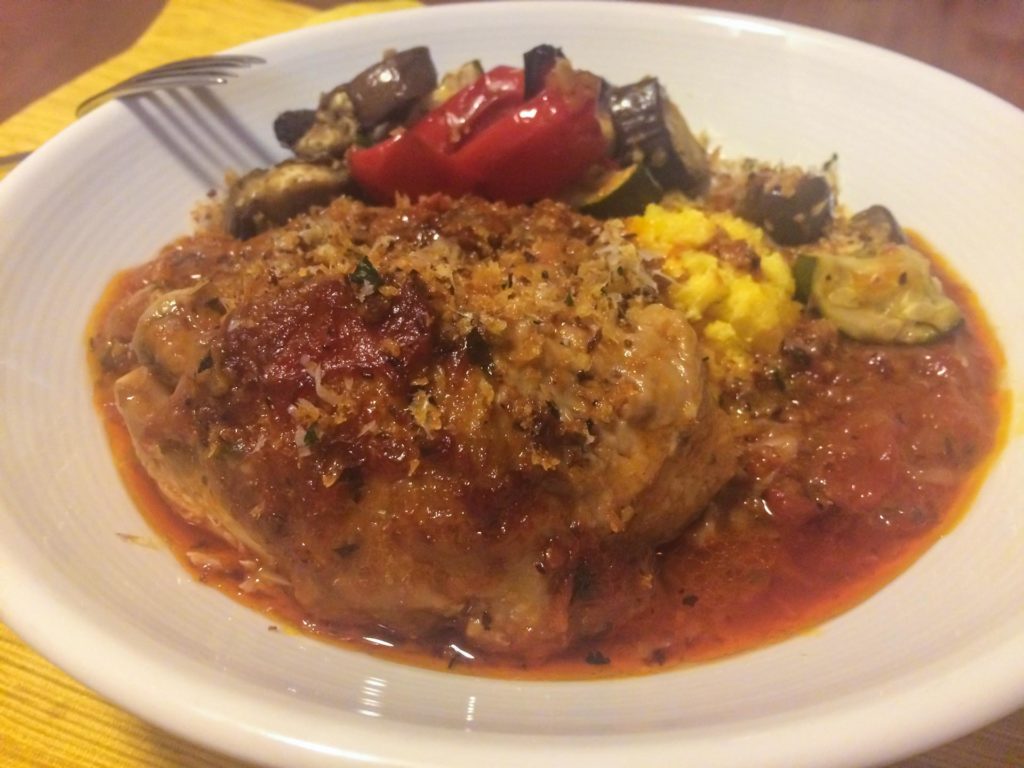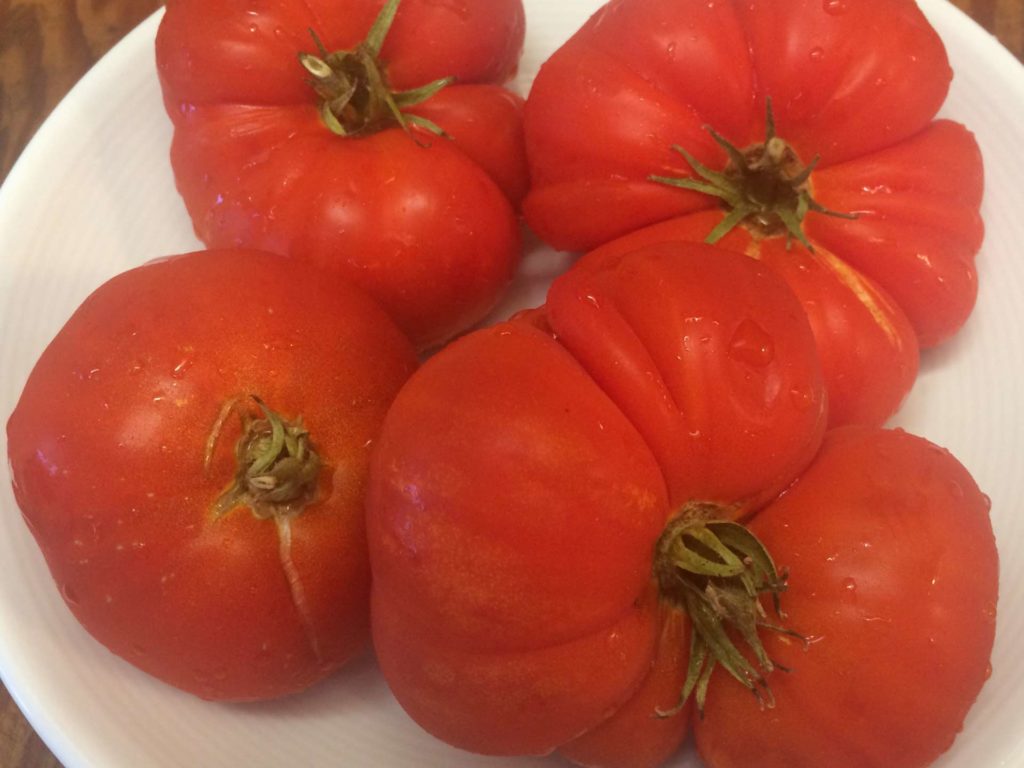 1 1/2 lbs bone-in chicken thighs
Seasoned flour – flour, salt, pepper
Extra-virgin olive oil, about 1/3 cup
1 small red onion, diced
2 cloves fresh garlic, minced
2 lbs fresh ripe tomatoes (i.e., Roma, beefsteak, heirloom), cored, chopped coarsely
3 Tbsp tomato paste
1 cup red wine
Dried Italian seasoning, about 1 teaspoon
Fresh herbs (Italian parsley, thyme, rosemary, any mix), about ¼ cup chopped
Water or broth, maybe 1 cup
Salt and pepper to taste (may also add dried chili flakes!)
Pat chicken pieces dry, and coat evenly with seasoned flour. In large oven-proof skillet over medium-high flame, heat olive oil. You may dip a toothpick edge in the oil; if it bubbles around the toothpick, the oil is ready.
Cook chicken pieces in oil until just lightly browned, a few at a time; do not crowd pieces in pan. As pieces brown, remove from pan and keep warm.
In pan juices, add onion and garlic and cook until soft. Add tomatoes and stir to coat with pan juices, onion, and garlic. Mix tomato paste with wine. When mixture is smooth, add to pan, along with dried and chopped fresh herbs. Stir well to combine all pan ingredients; check and adjust seasoning with salt, pepper, and/or chili flakes. Preheat oven to 325F.
Add chicken pieces to pan, tucking them under the tomato mixture. Here is where you may add some water or broth so that the chicken is immersed well in the tomato mixture. Cover skillet with lid or even foil, securely sealed.
Place in oven and slow-cook for about two hours. Serve fork-tender chicken and sauce with pasta, rice, polenta, vegetables … anything you'd like, topped with Toasted Parmigiano Crumbs (recipe follows).
Yields 4 servings.
Toasted Parmigiano Crumbs
1 garlic clove, minced
2 Tbs butter
1 cup Panko or other dried bread crumbs
2 Tbsp chopped flat-leaf parsley leaves
½ cup freshly grated Parmigiano cheese
Freshly ground black pepper
In small skillet over medium heat, cook garlic in butter until just soft. Add breadcrumbs and stir until lightly browned. Remove from heat and transfer to small bowl. Add chopped parsley and grated cheese, then black pepper, stir gently.
Crumbs can be made in advance and kept refrigerated for up to 10 days.
Yields 1 cup.