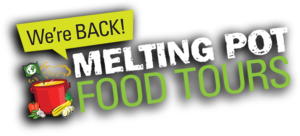 La Española Meats VIP Tour
and Paella Lunch

…and we are so excited to be accepting bookings for private and group tours now, so please call (323-664-4472‬) or email (Info@MeltingPotTours.com) to discuss. We look forward to hosting you on a delicious food tour soon!
La Española Meats VIP Tour and Paella Lunch
COMING SOON! THANKS FOR YOUR PATIENCE​
La Española Meats VIP Tour​, dining, and shopping experience is produced by Melting Pot Food Tours in cooperation with the Dona Juana family of La Española Meats in Harbor City, California. Our two-generation family of hosts are the premier purveyors of fine, authentic Spanish charcuterie, cheeses, wines, and a myriad of imported specialties.
The event begins with an exclusive tour of La Española's manufacturing facilities, where premium sausages and cured meats are crafted with recipes procured from Spain's finest master artisans. Following the tour, a specially-prepared patio lunch of tapas and paella is served with wine, plus homemade churros with dark chocolate dipping sauce for dessert. After lunch, enjoy grocery shopping with a chef's guidance and a special
Melting Pot Tours
guest discount. This is perfect for those seeking an interactive, entertaining and delicious experience of feeling transported to Spain!
My friend an I thoroughly enjoyed this tour and lunch in the patio that included tapas, paella, wine & dessert as well as soft drinks and water. We were also able to bring our own olive oil bottles to be filled, and we were able to shop for Spanish foods & products. The owner of La Espanola Meats was very interesting and personable.
My husband and I went to the La Espanol tour last week, and we had a marvelous time. Make sure to visit on Saturdays, when they serve prepared food. The best churros I've head in CA. We toured the factory where they make their own sausages and Alex, the manager, was explaining everything about the process. Our host, Diane, was great - very friendly and knowledgeable. [...]
Excellent tour of meat processing facility, followed by delicious lunch of authentic Spanish food & option to shop in unique market. Many products imported from Europe. Alex of La Espanola & Diane from Melting Pot Food Tours are personable and customer service oriented.
Sign up for our Newsletter to receive news and updates!
Stay connected with Melting Pot Food Tours!
© Copyright Melting Pot Tours. All rights reserved. Powered by Majestic Imaging & 411 Graphics