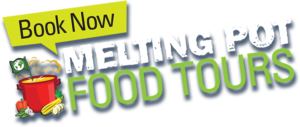 Old Pasadena Food Tasting
Walking Tour
You can book individual tours and group tours for any of our locations. For more than six person bookings please contact us directly at 323-664-4472‬. We look forward to hosting you in the very near future!
Colorful alleys and secret thru-ways spice up our walk as we seek out spectacular ethnic eateries and sweet-stuff havens on Melting Pot Tours' historic Old Pasadena Tour. Enjoy all the fascinating stories behind the foods when you explore this historic district, once just a sunny haven of bountiful orange groves.
Whenever possible, we'll be met and hosted by our special merchants who proudly share their incredible offerings with us. The tour concludes back at our original starting point. The food samples along the way are filling enough so that for most people lunch afterward is not necessary.
For the month of January 2024: We will add a special tasting to celebrate the Cheeseburger Centennial! 🍔💯

The first recorded instance of a hamburger with cheese that was prepared and served to a customer was recorded right here in the city of Pasadena. (Read more on the Cheeseburger Origin Story.)

Ethnic Eateries
Specialty Olive Oil  Shop
Artisan Chocolates
Specialty Bakery
Handmade Soap
Raymond Avenue & Holly Street (Pasadena, CA 91103) Exact meeting location details will be provided immediately upon purchase of tickets.
Parking at the starting point is not included. Rates for parking are 90 minutes free, $2 for each additional hour, $6 maximum per day. Gratuity to the tour leader is customary, especially if you had a great time & would like to recognize the tour guide for a job well done. A 15-20% tip is considered standard and is greatly appreciated!

We also highly recommend you bring a bottle of water with you, especially if it is a warm day.
Our tour guide Sabrina was great, we learned a lot about food and the history of Pasadena and, most importantly, ate so many yummy things! There were so many places we went to that I would have never tried by myself but am so glad I did! Would highly recommend.
When visiting LA, Old Pasadena doesn't jump to mind first. Thanks to this Food Tour it should be one of your top 5 spots. Enjoy a nice variety of world tastes and products offered by friendly and diverse local business owners (they all have an interesting story and our guide knew them all!) [...]
Barbara from Melting Pot Tours is an amazing guide...learned so much from her about Old Pasadena. The different choices of ethnic restaurants was fabulous! Had a great day with Barbara! Highly recommend the tour!
Sign up for our Newsletter to receive news and updates!
Stay connected with Melting Pot Food Tours!
© Copyright Melting Pot Tours. All rights reserved. Powered by Majestic Imaging & 411 Graphics