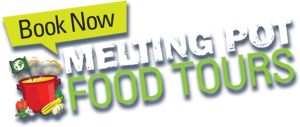 Pasta, Pasta, Momma Mia!
Old Pasadena Walking Food Tour

You can book individual tours and group tours for any of our locations. For more than six person bookings please contact us directly at 323-664-4472‬. We look forward to hosting you in the very near future!
Spend a lovely Thursday evening in Old Pasadena enjoying an Italian themed tasting tour!
Whenever possible, we'll be met and hosted by our special merchants who proudly share their incredible offerings with us, including a stop at Semolina Artisanal Pasta, maker of certified organic fresh and dried pastas. The tour makes a horseshoe shape around Old Pasadena and concludes back at our original starting point. The food samples along the way are filling enough so that for most people dinner afterward is not necessary.
Gratuity and parking are extra. This tour may be booked as a Private Tour for Groups only.
Diverse Eateries

Specialty Olive Oil Shop

Sweets

Gourmet Grocery

Wine & Non-alcoholic beverages
Parking location at 55 East Green Street, and meeting spot will be in front at 155 North Raymond Street in front of Amara Café.
Gratuity to the tour leader is customary, especially if you had a great time & would like to recognize the tour guide for a job well done. A 15-20% tip is considered standard and is greatly appreciated!
What a great way to spend the morning! So much history and excellent food - Barbara's energy and knowledge, friendships around the market and obvious passion made this an experience we'll never forget. Thank you again Barbara!
Our tour of the Original Farmer's Market, with Andrew as our guide, was really great. [...] I got exactly what I was hoping for from the tour - learned a lot about the market, and got to sample a wide variety of food from various businesses.
I was so impressed with Lisa's knowledge of Farmer's Market. Such fascinating info and yummy food. My six friends and I had a blast. I would recommend this tour to anyone who loves hometown history and eating.
Sign up for our Newsletter to receive news and updates!
Stay connected with Melting Pot Food Tours!
© Copyright Melting Pot Tours. All rights reserved. Powered by Majestic Imaging & 411 Graphics