Special Guacamole Scores Free Cilantro
Last month I had a rare weekend off, and made plans to visit our brother John and his family in Taft CA, which is near Bakersfield. 
We hadn't seen each other in far too long, and this last May, John's little grandson, 5-year-old Wyatt Rodart, was diagnosed with DIBG – a relatively new diagnosis of childhood brain cancer that is inoperable and considered incurable.  
A special event at the Kern County Race Park was that Saturday night, in Wyatt's honor, to create awareness for the disease and support for Wyatt's family. About 30 of us passionate Rodart-family-fans enjoyed the races from an air-conditioned VIP Suite. We had great food and drinks and everyone ate lots of candy. I got my toes stepped on about 1000 times – trust me – being a world-class auntie is fun!
Wyatt and his family got to spend serious time in the Track zone – meeting drivers, crews, other VIPs, and ultimately taking home some of the winning drivers' trophies. It was a pure joy and privilege for all of us – especially me – to be part of the very alive-and-well #livelikewyatt campaign.
Sunday morning our plans were to grocery shop then make a fantastic breakfast + snacks for fans who would be coming over for a serious NFL game.
We planned simple prep so that Wyatt and his older brother Carson could help. We agreed that great guacamole was a must. Chrissy got to witness my typical produce-department drill – i.e., surveying at least 10,000 avocados to choose 2 that met approval, then the same for limes, tomato, red onion.
There was no cilantro to be had, neither in the conventional nor organic section. Chrissy did find one sorry stem with four leaves on it. We put it in the avocado bag with my desperate I'll take it!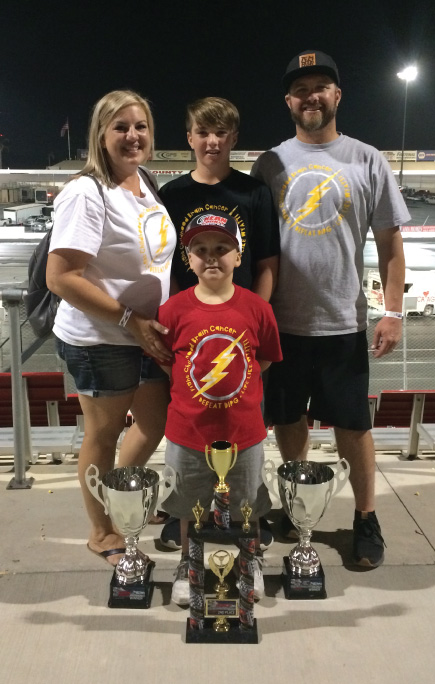 At the register, we told the lady that we could only find that one strand of cilantro. And she said, "I just threw it out! I thought it was trash that got stuck in there!"
Driving home, Chrissy made a seemingly-exaggerated sharp left then a sharp right, at a little Mexican take-out place. "We're going in here to get cilantro!"
Longer story short, I spoke (broken) Spanish to them, they spoke English, gave us more than enough chopped cilantro – no charge. We were ecstatic.
The guacamole – and the breakfast prepared by our boys and me – all a big hit.
I promised Wyatt that when he's older, I'm going to teach him recipes that are more complicated. We can't wait.
Here's our winning guacamole recipe – pictured here with special ghoulish potato crisps!
2 large, ripe avocados
Juice of two fresh limes
1 medium, ripe Roma tomato, seeded, diced
½ small red onion, diced finely
Small handful of fresh chopped cilantro (both leaves and stems are fine)
Salt to taste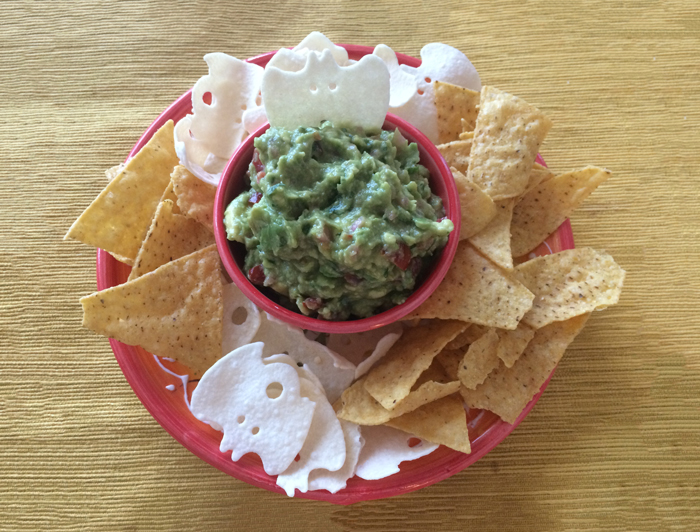 Scoop flesh out of avocado (discard pit) and mash well with lime juice. When creamy, add diced tomato and onion, then cilantro. Combine well, add salt to taste. Yields about 2 cups.

Until next time, I remain ~
Your Chef and Tour Maestra