SUNRISE SENIORS ENJOY A MARKET TOUR ADVENTURE
Many of you know that Donna, our mom, has been living with dementia for several years now. I'm sharing this sweet story to let you know, that we are our mother's daughters.
On one of July's sunniest and warmest Fridays at the Original Farmers Market, a very special Melting Pot Tours Team – Lisa, our sister Suzy, Armando (our 13-year-old intern on-call), and myself – had the pure joy, pleasure, and privilege of hosting 11 VIPs.
Angels-in-skin Lindy and Josh, Activities Coordinator and Driver, accompanied nine residents from Sunrise Senior Living in Palos Verdes, where our mom lives.
They came for a one-hour Tour.
We did not know that we were destined to spend three hours together and, no one seemed to mind.
Here are only some of the highlights of our time together:
Bob of Bob's Doughnuts and Scott of Bennett's Ice Cream showed up – unsuspectingly – just in time to warmly meet and greet our guests.
Flavors and tastings from Magee's Kitchen, Moishes, and Patsy D'Amore's Pizza were very popular and well received – for the main course. A freshly made glazed doughnut from Bob's was the ultimate dessert at the end of the Tour.
During our Tour they also loved a taste of Magee's peanut butter and meeting Doris from Ireland, and a piece of Littlejohn's English Toffee.
The Jimmy Kimmel Live crew was at the Market that day and how perfect! They were seeking seniors to take part in a special challenge. Three of our darling guests enjoyed their video'd close-ups and received I Selfied badges. The segment aired a couple weeks later, watch the video here!
Many of our guests were delighted to recall so many memories of the Market from days gone by. They remembered "this place" very fondly.
I gave them all honorary membership in our Perfect Guests Club. They were some of the loveliest and most gracious guests we've ever had.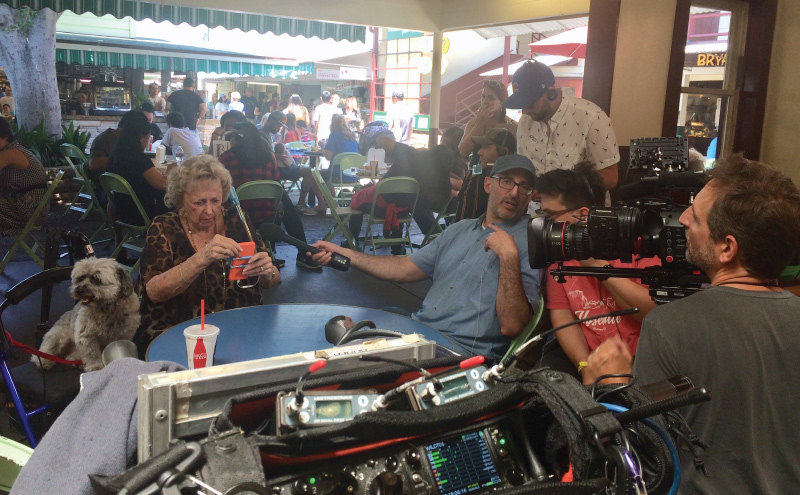 We were all asked to step onto their air-conditioned 😉 bus before they departed; they wanted to say thank you.
Lisa sweetly told them that if they've ever wondered what our mom was like when she was younger and healthy … we 3 sisters are a pretty excellent composite of who she used to be. Our mom was once full of life, so happy, generous, loving, hospitable, and loved to make people happy.
The best of her, lives in us.
That evening I felt very emotional, sad that Mama isn't well enough to have joined us. I was comforted by Armando's message in response to my thank-you text to him: It was so fun to be a part of the tour … I loved all of the seniors, they were so much fun to be around and I learned a few things from them.
This was an extraordinary experience. I felt like Heaven had been brought down to Earth, as close as it possibly could have reached.
We visited Mama and our new friends the following week, and our Tour was still all the buzz. I Selfied badges were still being worn. They are still sure Armando will be a movie star one day.
Maybe they felt the same way I did. I hope so.

Until next time, I remain ~
Your Chef and Tour Maestra